EC&M Magazine ranks Tri-City Electric Co. a Top 50 Electrical Contractor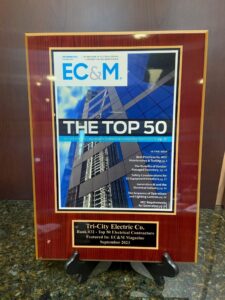 Tri-City Electric Co. is extremely excited to announce that the Electrical Design, Construction and Maintenance (EC&M) September 2023 issue of the magazine named Tri-City Electric Co. the 32nd largest Electrical Contractor in the country.
Tri-City Electric Co. was established in 1895 as an electrical contractor and supplier.  Throughout history, Tri-City Electric Co. has served customers in forty-five (45) states, two (2) US Territories and six (6) Countries. On average, Tri-City Electric Co. consists of 1,500+ management staff and field personnel. With annual sales volume at approximately $330 million, Tri-City and its Affiliates have performed over $1.5 billion in construction in the last five years.
Among areas of expertise, Tri-City Electric Co. provides 24-hour services in commercial and industrial electrical construction, residential & electrical services, renewable energy – solar & EV charging, power testing and preventative maintenance, engineering & integration, low voltage structured cabling, security cameras & card access, audio/visual, business telecommunications, IT solutions and drone services, along with affiliated companies – Paramount Millwright Services, Tri-City Ironworks, Tri-City Fire Protection and Tri-City Automated Solutions.
Back to All News