Travis Keeney of Tri-City Electric Co. Receives the National Safety Council Award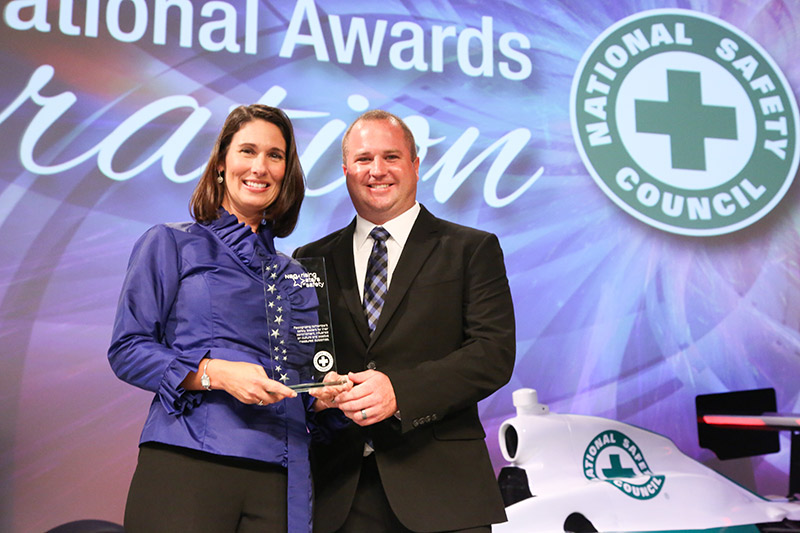 Itasca, IL – On September 26, 2017, the National Safety Council presented its prestigious NSC Rising Stars of Safety Award to Travis Keeney of Tri-City Electric Co. for his continued dedication to safety.
Travis Keeney was nominated by his peers and won this prestigious award because his biggest initiative helped directly lower the company's EMR from 0.93 to a much lower number. It involved many different areas to improve upon in order to ultimately reduce the number of injuries. Travis identified, analyzed and targeted the key indicators and root causes of the injuries that were occurring. From there, he began to implement solutions such as targeted training, revising and developing new task procedures, improving PPE, and several other ideas. He believed in teaching other managers not to just enforce safety but help be coaches to those in the field as well. Through continuous tweaking and steady improvement over the past few years, and through the initiative, he has now successfully helped drive the company EMR down to 0.58.
Tri-City Electric Co., along with The National Safety Council, is proud to recognize Travis' work, and is prouder of all his accomplishments, his commitment and passion for Tri-City Electric Co.'s shared goal of eliminating preventable deaths at work, in homes, communities, and on the road.
The National Safety Council developed the Rising Stars of Safety to help shine a light on up-and-coming safety stars. One individual younger than 40 is eligible for consideration from each organization. Nominees are recognized at the NSC Congress & Expo and are highlighted in Safety + Health® magazine.
"Our award winners recognize that safety is a journey rather than a destination," Deborah A.P. Hersman, President and CEO of the National Safety Council said. "These individuals and organizations constantly ask, 'What more can we do?' We are proud to honor the winners and to recognize all the outstanding nominees that share the Council's goal of eliminating preventable deaths and injuries in our lifetime."
Visit nsc.org/awards for additional information about the National Safety Council Awards.
The National Safety Council (nsc.org) is a nonprofit organization whose mission is to eliminate preventable deaths at work, in homes and communities, and on the road through leadership, research, education and advocacy. Founded in 1913 and chartered by Congress, NSC advances this mission by partnering with businesses, government agencies, elected officials and the public in areas where we can make the most impact.
Tri-City Electric Co. was founded in 1895 as an electrical contractor and supplier. Today, Tri-City Electric Co. is ranked 40th nationally among the top electrical contractors according to EC&M Magazine. It has established itself as one of the Midwest's premiere specialty contractors providing design/build, electrical construction, residential services, renewable energy, power testing solutions, engineering and integration, structured cabling, security and access control systems, business telephone and voice mail systems, audio/visual, residential and commercial generators, drone services and 24-hour emergency services. Please visit our website at www.tricityelectric.com for more details.
Back to All News